15140-R Ohio State Buckeyes Block Print with Helmets
Colleges from Fabric Traditions - This is an Ohio State University Buckeyes licensed print. Fabric is 100% cotton and 43/44" wide.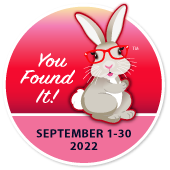 If you click on the bunny and it does not have the registration page, please try a lap top. Some cell phones or tablets are having trouble connecting to the register for prizes page.