Finish your quilts with ease!

THIS IS AN EXCLUSIVE
RED ROOSTER QUILT'S PACKAGE

. We have a limited number of

Handi Quilter

CAPRI's

that have been fully upgraded to offer the same features as Handi Quilters number 1 selling longarm over the last 15 years, the

AVANTE!

These machines come complete, with everything: 10 or 12 foot stand up Frame, 18" throat space, Stitch Regulation, independent bobbin winder, bobbins, needles, thread, leaders. Everything you need EXCEPT your Quilt top! With this great

Capri Package

you can "

Finish your Quilts!

"


Imagine yourself quilting up to 2,200 stitches per minute, easily manipulating your bed-sized quilt within the roomy 18" throat space. Choose from 4-22 stitches per inch for all types of quilting motifs. The HQ stitch regulator takes away the fear of finishing. The HQ Capri includes lots of light, so you can see your beautiful stitches.



Package Includes:
HQ Capri 18-inch STAND UP, STITCH REGULATED longarm
Studio 3 table (10 foot or 12 foot) To make your largest quilts with ease
Color touch screen with user-friendly icon display
HQ Capri Lighting Package: LED light ring, throat lighting, and bobbin light
Easy-Set Tension
Five bobbins, 20 needles, sample thread pack
Standalone Bobbin Winder
Handi Feet compatible; comes with the quarter-inch ruler foot installed and the open-toe foot
Machine Features:
Easy setup and assembly
Four times the quilting space of the average home sewing machine (18 inches of throat space and eight inches of vertical space)
Paired with the exclusive Studio 3 Frame with built-in Stitch Regulation™
Stitching speed up to 2,200 stitches per minute
4-22 precision stitches per inch
Two modes of stitch regulation: Precision or Cruise
Handi Feet compatible; comes with quarter-inch ruler foot installed, open-toe foot
Adjustable high-resolution color touch screen
Needle-stop position control
Easy needle change
Low-bobbin estimator and alarm
Quilting alarm and project timer
Walking stitch plus five basting stitch options
Presets for saving favorite manual mode stitching options
Stitch counters
Bobbin-area "dam" allows for use of canned air for lint removal
Built-in diagnostics
Easy USB machine and software updates
UPGRADED to a movable-carriage, frame machine if your needs change
Optional Accessories:
Interchangeable Handi Feet
Horizontal Spool Pin
HQ Casters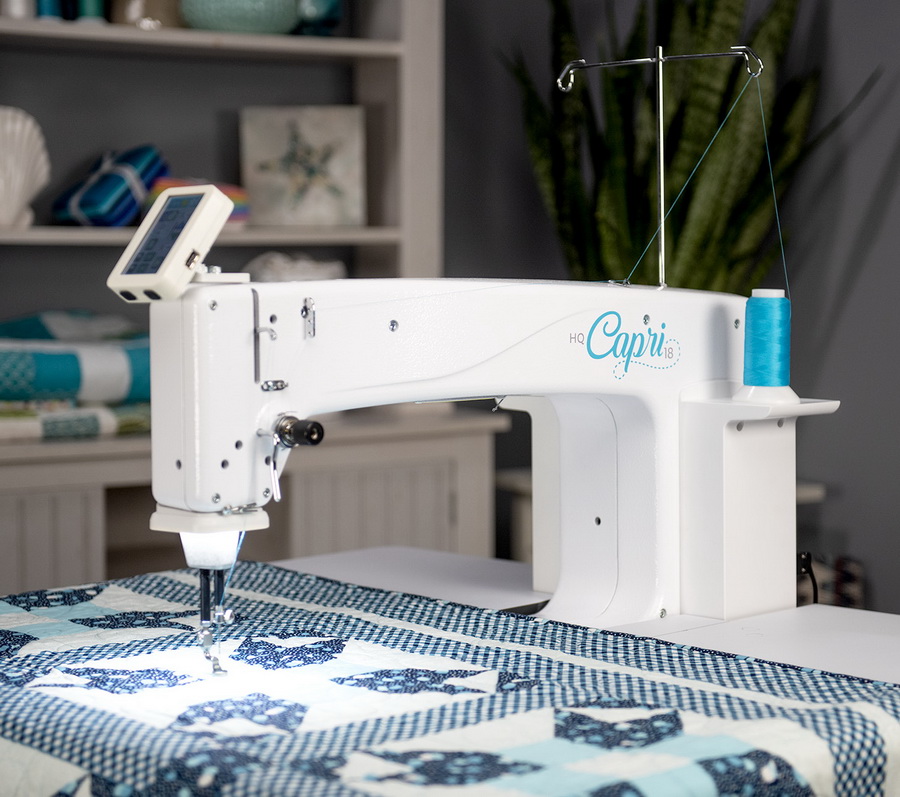 Reasons to Buy Handi Quilter
HQ worldwide retailer support
HQ Warranty: 10 years casting, 5 years mechanical, and 5 years electrical
Designed, engineered, and assembled in the U.S.A.
Educational videos, tutorials, and tips available at HandiQuilter.com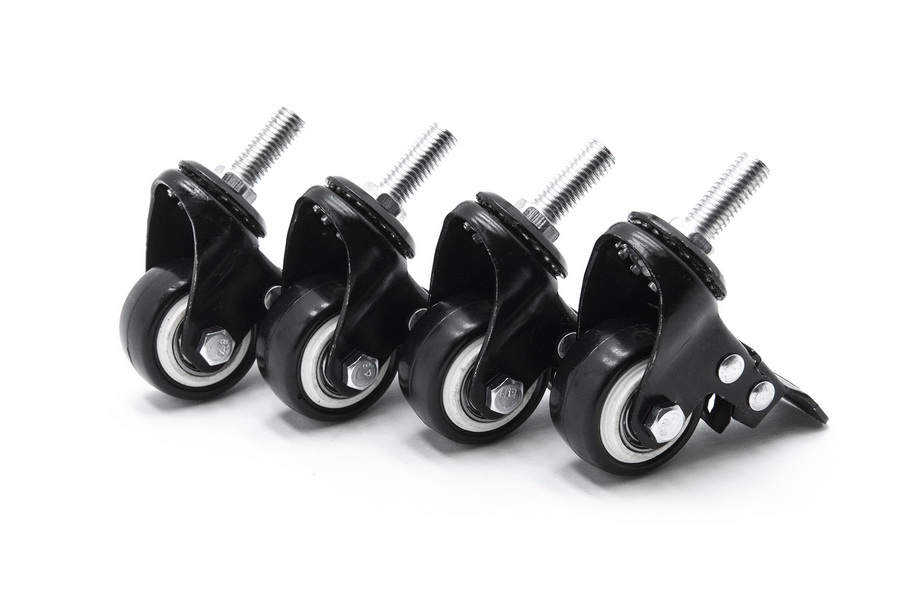 The HQ Casters provide portability to the HQ Table. Each FRAME requires 8 casters.