Subscribe to
Red Rooster Quilt's

Newsletter.
Find out about specials, events and the newest fabrics, kits, notions and more.
Upcoming Summer Classes & Row by Row Experience
Hello Friends:

It's Row by Row Experience time!!! We're ready to go. Here are our rows. We have two to choose from, A Home 4 All Seasons ~ Spring:
or A Home 4 All Seasons ~ Fall:
And, we've made two bonus rows to complete the seasons:
A Home 4 All Seasons ~ Winter:
And, last but not least, A Home 4 All Seasons ~ Summer:
And, a finishing kit to create our A Home 4 All Seasons quilt:
Remember, if you are making a quilt to enter for prizes, you must have at least 8 different rows from 8 different 2016 participating shops.
And, our license plate:
And, a cute tote bag to store all your Row By Row patterns:
Click here to place your order for all of these items!
Upcoming Classes:

Beginning Quilting:
What a great time to take classes, summer time! We have a beginning quilting class starting on Tuesday, June 28th at 5:30 pm and goes for 4 Tuesday nights.
And, how about a UFO (un-finished-objects) class this Friday from 10-4.
Or, make this cute quilt from the book Fab Five:
This class is this Saturday from 10-4. Give us a call or stop in to sign up for these classes.
And, don't forget, Annie Unrein, of byannie.com is coming! She will be here July 14th & 15th teaching 3 classes and one lecture/show & tell. Still space so click here to sign up soon! The classes are on the Travel Essentials bag, the iCases bag and the Zip It Up! bag.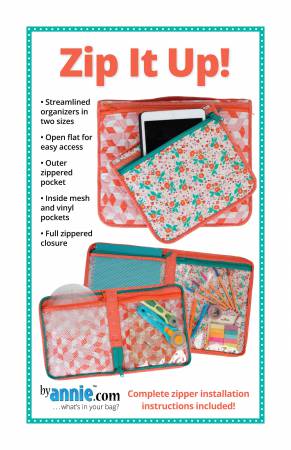 Happy Row By Row Experience Shop Hopping!
From:

Red Rooster Quilts
48 Corbins Mill Dr.
Dublin, OH 43017
614.734.9007
www.redroosterquilts.com
Janome NEW 9400QCP Machine!
Hello Friends!

It's here!! The new Janome Horizon 9400QCP sewing machine is here! Designed ESPECIALLY for QUILTERS! Here are some pictures:
Here are some of the features:
Top Loading Full Rotary Hook Bobbin System
350 Built-In Stitches and 4 Alphabets
Superior Needle Threader
Cloth Guide Included
One-Step Needle Plate Conversion with 3 Included Plates
Detachable AcuFeed Flex Layered Fabric Feeding System
USB Port and Direct PC Connection
Stitch Composer Stitch Creation Software
Variable Zig Zag for Free Motion Quilting
Straight Stitch Needle Plate with Left Needle Position for 1/4" Seam Foot
Professional HP Needle Plate and Foot
Advanced Plate Markings
Full Color LCD Touchscreen (4.4" x 2.5")
Sewing Applications On-Screen Support
Maximum Sewing Speed: 1,060 SPM
Full Intensity Lighting System with 9 White LED Lamps in 4 Locations
11" to the Right of the Needle
Retractable High Light
Improved Ergonomic Shape
STANDARD ACCESSORIES
Come in and take it for a spin today! Janome has the MSRP set at $4999 but we have a special introductory price which we aren't permitted to advertise. So, get on over here and see it for yourself!
Upcoming Classes this week:

Straight Line Quilting
class
Tuesday 6/7/16 from 5:30-8.
Hard Candy
class
Wednesday 6/8/16 from 10-2.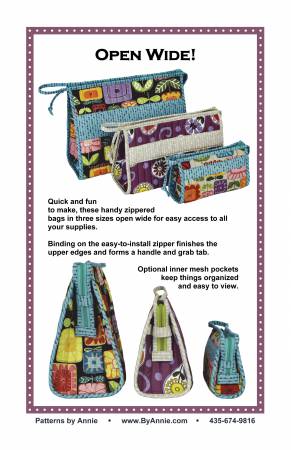 We are making the Open Wide! bag at our
Let's Get Organized
club this Friday from 5-10. There's always space for one more!
Annie Unrein from ByAnnie.com is coming to Red Rooster Quilts in July. We still have openings so click
here
for all the details.
New Fabric. Click on the link to see all the bolts we received.
See you soon at Red Rooster Quilts
48 Corbins Mill Dr.
Dublin, OH 43017
Here's what's new at RRQ vol 3
Hello Friends:

I always wanted to make a series of quilts. You know, like other artists say first in the series or third in the series. But, I haven't come up with a concept for that yet so I'll just name all my newsletters in volumes. Does that work?
Anyways, here's what's happening at Red Rooster Quilts this month.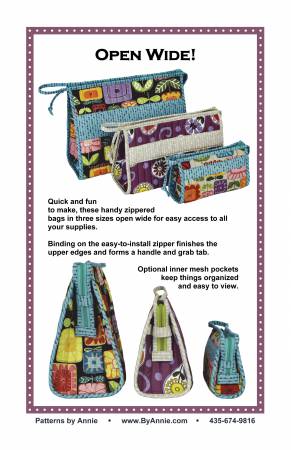 Let's Get Organized! The next class is June 10th from 5:00 - 10:00 pm. We have a lot of fun in this evening get together so please join us! We always have room for one more. The June project is the Open Wide Bag. They come in three different sizes. Choose any size to make in class. The class fee is $25 which includes the pattern, pizza, door prizes and 10% off your supplies for class. Please give us a call or stop by to sign up.
Have you seen the new Handi-Quilter Simply Sixteen yet? So you think you don't have room for a long arm? This machine is just 5 feet wide! A perfect machine for the home!! We have one on display ready for you to stop by and take a look. And, even better, we have them IN STOCK ready to take home and quilt on tonight. MSRP $5999.
Row by Row is almost here. Here's a sneak peek at our row quilt. Starts on June 21st through September 6th. We are busily cutting kits, making new Row by Row projects and stocking up on related Row by Row items.
And, here's our license plate. It's already on sale for $5.99.
Here's a large tote bag to take from place to place to collect all your Row by Row patterns in. Kit available for $34.99
Annie Unrein of byannie.com is coming to Red Rooster Quilts! She will be here July 14th & 15th. She will have a lecture and show and tell and she is teaching three classes. Please click here for all the info and to sign up.
The sewing retreat in October to Winston Salem, NC is quickly filling up. We have about 13 spots left. So, if you are thinking about joining us, please click here to sign up.
Upcoming classes:
Mitering Corners demo: Saturday, June 4th at 2:00. Please join us to learn how to miter corners for your quilt borders. Class is FREE but please give us a call to sign up so we know how many to expect.
Hard Candy class meets on Wednesday, June 8th from 10-2. Fee: $15. Teacher: Libby Daugherty.
Straight Line Quilting: Class meets Tuesday, June 7th from 5:30-8. Learn various methods of machine quilting with your walking foot. Class fee: $12.
New Fabric: As usual, this is a sampling of the collection. Please click on the links to see all the fabrics we received.

Hello World by Cori Dantini for Blend Fabrics
Winter Lodge by Studio Frivolite' for Studio E Fabrics
Sound of the Woods 2 - Glacier by Avery Tillmon for Robert Kaufman
Beauty-Fall by Sandy Gervais for Moda
Christmas Wishes by Jenelle Kent for Blank Quilting
See you soon at Red Rooster Quilts!
48 Corbins Mill Dr.
Dublin, OH 43017
614-734-9007
www.redroosterquilts.com