Subscribe to
Red Rooster Quilt's

Newsletter.
Find out about specials, events and the newest fabrics, kits, notions and more.
Who Wants to Win?
Hello Friends!
Who wants to win a brand new Brother LB6800PRW?
Come to our Brother Open House, Introduction, Test Drive, Party, Demonstration, Event. Whatever you call it, it'll be all around FUN on Friday, August 19th or Saturday August 20th. You'll be the first to see the new machines that are being rolled out next week at the Brother Convention. Take any Brother machine for a test drive and get a FREE gift. Special prices and packages for this event only.
Want to be IN THE KNOW? Be the first to eXperience the launch of the new Brother machines by going to this web site.
A BIG thank you to all those who answered my survey about classes. The masses have confirmed that a printed class schedule with photos and description plus skill levels would be great. So, look for the new and improved printed class schedule by mid August. And, watch your email as I will send the whole schedule out for you to view and print at will. We are also having a Come See the New Classes and Samples on Saturday, August 27th from 10-2. We will have discounts on classes and supplies purchased for classes on Saturday, 8/27.
The next Let's Get Organized club is Friday, August 12th. The project is the Just in Case bag.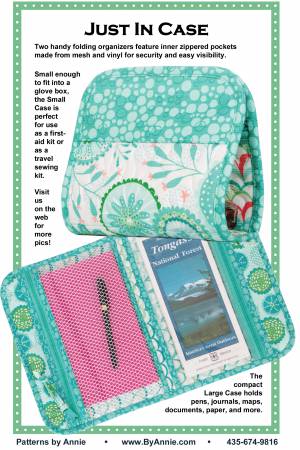 The pattern comes in two sizes and you can choose either size to make in class. This is a GREAT BEGINNER BAG as it will teach you how to use Soft & Stable, round corners, bias binding, magnetic snap, mesh, vinyl and zippers!! These are all the fun things that make your bag stand out and people will say "WOW, you made that!" We have two experienced instructors to guide you though this project. If you come with your project pre-cut you will be able to finish this in class! Class meets Saturday, August 12th from 5:00-10:00 pm. Class fee is $25 which includes your pattern, dinner, 10% off supplies purchased for the class and a door prize.
5th Saturday Sale. This Saturday, July 30th is our 5th Saturday Bag sale. Bring your 5th Saturday bag in and fill it full and get 25% off everything* in the bag. You must pre-purchase the bag as they will not be available for purchase on Saturday. Give us a call to pay for yours before this Saturday. The bag was originally $25 and now it's $15. There are two more 5th Saturdays in 2016 - 10/29 & 12/30 & 12/31 (The December dates will be both Friday & Saturday since we will close early on 12/31) *some items excluded.
Handi-Quilter Club: Tonight, Thursday, July 28th from 6-7 is our first Handi-Quilter Club meeting. It will be an organizational meeting to see what you would like the club to do. Show and tell will always be included so bring something to share tomorrow. Club fee $5. Please give us a call to sign up.
New Fabric:
These cute DAWG fabrics:
And, Tee'd Off:
Thank you for making it all the way to the end on this rather long email! As always, click on the links to see all the fabric we received in the collections pictured above.
Happy sewing and stay cool!
From your friends at:
Red Rooster Quilts
48 Corbins Mill Dr.
Dublin, OH 43017
614-734-9007
www.redroosterquilts.com
Authorized Brother, Elna, Handi-Quilter, Janome & Necchi dealer
Flash Sale
Hello Friends:

Handi-Quilter is having a Flash Sale! Purchase the Sweet Sixteen and receive the TruStitch and Overlay FREE! An $1130 value.
We have these machines in stock, ready for you to take home TODAY and start quilting. And, if you purchase this machine during this sale, we will throw in our Handi-Quilter classes coming up on September 9th & 10th. A $110 value. Sale dates are July 22nd - July 26th. But, Red Rooster Quilts is going to honor this price starting today through July 26th. So, don't delay!! Come over today and pick up your Sweet Sixteen.
We also have the Simply Sixteen in stock. No waiting for it to be shipped to you either.
Don't let space restrictions dictate what you can create. Combined with the HQ Little Foot Frame™ system, the HQ Simply Sixteen enables any quilter, beginner to advanced, to finish any size quilt without the space requirements of a conventional frame system. Integrated technology and engineering provide the functionality that quilters demand, paired with the smoothest stitch in the industry. Handcrafted in the U.S.A., the HQ Simply Sixteen is backed by the HQ warranty. It's simply the best solution when space is at a premium.
And, since I mentioned the Handi-Quilter Classes, let me give you the details. We are pleased to welcome Susan Jungerheld, a Handi-Quilter Certified instructor. Here are the classes she will be teaching:
Friday, September 9th from 9:00 am – 12:00 pm. Longarm Quilting Boot Camp Basics: Does longarm quilting interest you? Would you like to learn more about it? Or do you just need a review of longarm quilting basics? This class takes the mystery out of longarm quilting by acquainting you with the basic terms, machine features, how to load a quilt, and what you easy to use, come in various sizes for every budget, and are designed by a quilter, for quilters – just like you! Also makes a great refresher class on the basics. Class fee: $20. Fee will be applied to any long arm machine purchase.
Topics include:
• Definition of longarm quilting terms
• Basic machine features
• Loading quilts
• Bobbins
• Tension, needles and thread
Click here to sign up.
Friday, September 9th from 1:00 pm – 4:00 pm. Sit-Down Quilting Boot Camp Basics:
Do you quilt on a sewing machine, but long for more space? Do you have limited space for a quilting machine, and prefer to sit down to quilt? Come see how the HQ Sweet Sixteen will solve those problems and help you finish quilts of any size! The machine features make free-motion quilting a breeze, and additional creative feet and gadgets take you far beyond meandering and stitch-in-the-ditch. Class fee: $20. Fee will be applied to any long arm quilting machine purchase.
Topics include:
• Built-in machine features
• Stitch Regulation with Tru-Stitch
• Pattern application and Golden Threads paper
• Basting layers and manipulating the quilt
• Creative machine feet, rulers and gadgets
Click here to sign up.
Saturday, September 10th from 9:00 am – 12:00 pm. Start Simple, Expand to Amazing:
Begin with a basic design from a stencil, a ruler or template, an appliqué pattern, a motif from a fabric, or even a shape you draw yourself. Then transform and expand that design from basic to spectacular. Add extended and secondary designs, repeats, fills and special effects. Learn marking techniques and tools for applying designs to quilt tops. Applies to all types of long arm machines. Class fee: $45.
Topics include:
• Using stencils and templates to begin a design
• Expanding block designs into sashing and borders
• Repeating designs for special effects
• Fillers and embellishments to enhance a design
• Making your own stencils
Click here to sign up.
Saturday, September 10th from 1:00 pm – 4:00 pm. Custom Waves, Curves & Circles:
This class on circle templates and curved rulers presents a new world of design options. Learn how to read and use the markings on the templates, and the tricks for making half circles, flattened circles, and perfectly curved lines. Create beautiful quilting designs using swags, clam shells, ovals, arcs and half circles. Applies to all types of long arm quilting machines. Class fee: $45
Topics include:
• Mini-circles, half circles, and full circles
• Using wave and clamshell rulers and fillers
• Measuring and fitting designs within a border
• Curved crosshatching
• Alternate methods with the HQ Pro-Stitcher and groovy boards
Click here to sign up. Or, give us a call to sign up.
The future of your longarm quilting awaits you. Don't wait another day to start finishing those UFO's!
Happy Quilting!

Red Rooster Quilts
48 Corbins Mill Dr.
Dublin, OH 43017
614-734-9007
www.redroosterquilts.com
Last Call for Annie Unrein Show & Tell & Classes
Hello Friends:

This is the last call for the classes and lecture/show & tell by Annie Unrein of Designs byAnnie.com this Thursday, July 14th and Friday, July 15th. Here is what you'll be missing:
This is just a few of the samples she will be showing at her Show & Tell on Thursday evening at 7:00 pm. And, by attending this show & tell you will get 20% off any byAnnie pattern and any notion that she talks about in the lecture.
And, here are the samples for the three classes she is going to be teaching. On bottom: iPad or Tablet Cases, upper left Travel Essentials Bag and upper right Zip It Up! Bag.
Please click the links above to sign up or give us a call! We are excited to bring this wonderful national teacher to you! We can have a lot more events and classes with your support.
More new classes:
Hand Quilting: Learn the basics of hand quilting on Tuesday, July 26th from 5:30 pm - 8:00 pm. Class fee $10.
UFO Day: Join us on Friday, July 22nd from 10-4 and work on any project you like. Class is free but please let us know you are coming.
Handi Quilter certified teacher classes are September 9th and 10th. Look for an email next week with all the specifics.
New Fabric:
Trinket by Melody Miller of Cotton + Steel
And, we now carry Kaffe Fassett!
Delightful December by Sandy Gervais:
Happy sewing everyone!

Red Rooster Quilts
48 Corbins Mill Dr.
Dublin, OH 43017
614-734-9007
www.redroosterquilts.com